Thanks for sharing your "Loveseat Confessions" for a chance to win a loveseat (valued at $499) from Slumberland Furniture in Willmar! 
Congratulations to Linda Terlisner from Atwater! Linda was randomly drawn from all the entries as the winner of the loveseat from Slumberland Furniture!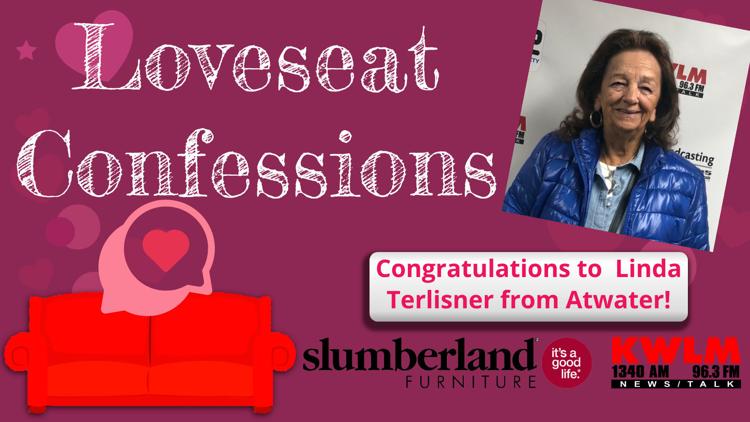 Thanks to our sponsor:
Here are some of the "Loveseat Confessions" we've already gotten!
We met through friends, he had chased me for over 5 years before we started dating. We've been together for 19 years and married for 13 years. My husband is special to me because we've been through a lot together and have grown more in love through our trials and tribulations. - Beth of Buffalo Lake
It's been almost 38 years married and we have made lots of memories.  Some have been great and some were survivable because we have had each other! Here's to many more years and memories in the making! - Mary of Willmar
We met because I needed a tow. He was the guy that came to tow my car. We've been together a year. He loves every thing I do and vise versa. He got me out of my shell. - Heather of Willmar
We met through eHarmony.  We dated for two years and have been married a year and half.  We have so many unique stories between us I don't even know where to begin.  We were both too cheap to do the online dating, his mom paid for his and I was trying it out on a free communication weekend...yet it brought us together today.  When he proposed the first words that came out of my mouth were, "Did you have to throw me for a loop?".... obviously, I said yes. We laugh about it often.  I don't know what I do without him. - Brianna of Willmar
Hi!  I met Darrell at Timbers 34 years ago. We went out the same night and we have never been apart since. He is the kindest, most loving man, I have ever known. I am very blessed!  Linda of Atwater
I met my special someone at a job, 14 years ago! We actually went to high school together but didn't really hang out. We've been like magnets drawn to each other since then! I can't believe God blessed me with him! - Kristine of Amboy
My husband and I met in 1980 when we were both both teaching in Raymond. On our first date we actually went to dinner and then to the laundromat to do his laundry. We both loved tennis, so we would bet on who would win and the loser had to pay for dinner. It was pretty competitive. My position was going to be cut and he did not want me to leave. He proposed to me by placing an add in the want ads (he knew I was looking for a job). It read "DJN will you marry me "inside a heart. I didn't see it at first and he practically had to point it out. Of course I said yes. Well a few days later the paper called and asked if I had said yes because they were getting calls. So I placed an ad that read "Yes, GLN, I will marry you!"inside a heart. They did a feature story on us. We were married on Oct. 23, 1982. It had to be during MEA break because he was coaching 3 sports. He is the love of my life and he will always have my heart. - Debra of Clara City
Met through a friend just 9 years ago last week. We hung out at a basketball game and the rest is history. 3 kids later and many, many memories, trials, and tribulations; we are still just as in love as ever. He is the greatest Dad to our kids and one of the strongest people I know. I am very grateful to have him! - Ally of Willmar
We met through mutual friends on a frozen lake at his fish house. We hit it off right away, talked many hours until we decided we should start dating. It's been 11 years of love with the most patient man I have ever known. We got married 4 years ago this March! Lindsey of Atwater
I met my husband through a friend that went to prison... We started off writing letters which then blossomed into feelings towards each other... He stole my daughters heart.  When he got out, we met at his parents where he had to stay for a bit. We fell head over heels and were inseparable. We got married in 2002. We were actively involved in organizations. We have accomplished so much together. Even when times get hard we still manage through it all. We have been down on our luck a lot and we still survive. He is my rock and I am his foundation. We know what each other is thinking or what they will do in any given situation. We have been together 18 years. We made a vow to us and God that no matter how hard things get or how tough times are, we fight through it all. IF DESTINY AND FATE ARE MEANT TO BE WE ARE JUST THAT. We love each other so much. It's the little things we do that make us special and unique. A love like no other. Valerie of Sauk Centre
I was on spring break and my friends and I went to Houston TX in 1979.We were seniors in high school.  We had rented a car and were driving down the freeway when my friend waved to a driver in a van.  They started following us and I got off the next exit  and pulled over.  They passed us and then stopped and backed up.  My friend jumped out of the car and pretended to be lost.  It just happened to be five guys and five girls.  They took us around Houston and entertained us . By the end of the week I went home thinking that was it.  Well it wasn't and he came up for my prom and Graduation and  I was in love.  41 years later from that Spring Break we have been married for 36 years and have 3 wonderful boys and 8 grandchildren and life is still an adventure and I wouldn't want to share it with anyone else. Erin of Willmar
We met when I was working at Country Kitchen in Montevideo. He came in with a friend of ours. I was not interested in him at all. Today we have been together since 2001 and have been married since 2006.  Best memory is us spending 10 beautiful days in Hawaii after he came back from a year deployment. I thought, "Isn't it time we have a honeymoon? I'm going to Hawaii you want me to get you a ticket or are you staying home?" That is how I finally got a honeymoon. Jen of Renville
We met at a wedding - my sister was marrying his brother!  We've been married 37 years and I can't imagine doing life with anyone else. - Linda of Willmar
James and I met on a Friday the 13th! He has been by my side even when we didn't know if we would see another day together. He stayed. My mother became terminally ill and needed many complex medical procedures done at home daily by family members. After we lost her. We lost us in a sense... I'd love to give him a gift to relax on with our kiddos. - Jessica of Montevideo
I met my husband in a restaurant that he was managing and he hired me for a waitress position. I learned that he was planning a trip out west and I jokingly said I would go with him if he didn't have any one else that he was going to invite. That's what started it all and here we are over twenty years later and I still remind him about that first time I had invited myself along on his bike trip. Ellen of Sacred Heart
My very special someone is my man, George. Although we have only known each other since September, he has totally stolen my heart. He is sweet, understanding and kind. We get to spend the perfect amount of time together; just enough that we always appreciate when we see each other again. One of our favorite things to do together is snuggle up with a blanket and watch the Hallmark Channel. I love cooking for George. He  never complains, even if I serve the same thing two days in a row! We understand each other so well; not really even needing words to express how we feel. George has no vision in his left eye and limited vision in his right eye. Despite this major physical deficit, he doesn't let this get him down, and spends much of his time bringing joy to others. George has a big family, and gets along well with all his brothers and sister. Not only do I get the benefit of knowing George, but I get to also be around his crazy, lovable family. They lost their mother when they were all very young, so they turn to each other for support when times are tough. George is an excellent big brother, and always looks out for his younger siblings. I am blessed to have him in my life, and I wish everyone could know George and could experience how he is such an inspiration! - Karen of Pennock
We met at a social event, started dating in April, got engaged in October and married the following June. We have been married for 34+ years. We make a great 'team' and have a wonderful partnership.  He makes me laugh and there's never a dull moment:).  He's my other half that makes me complete!  Bryan - I Love You! - Kristi of Raymond