This year Jackpot Junction is hosting the party of the decade! Arch Allies will be Rockin' into 2020 during the FREE New Year's Eve party in the Dacotah Exposition Center at Jackpot Junction Casino Hotel.
We're bringing a bus load of people to Jackpot Junction to party like a VIP! Listen for the cue to call and you and a friend could win a seat on the Rockin' Bus, spots in the VIP area for Arch Allies concert, and you'll ring in the New Year with a champagne toast and New Year's party favors!
When you hear the Cue, call 320-235-1025! Good Luck!
---
If you win seats on the Rockin' Bus, you have a chance to win one of THREE - $100 in Free Play certificates, one of SIX- $20 food vouchers and Q102 swag! ! As a VIP, at midnight you'll be invited to participate in a champagne toast to ring in the New Year and you'll have New Year's swag to celebrate 2020!
*We will meet the bus at the Kandi Mall Parking lot at 6:45 PM on Tuesday, December 31st. You will check in and pick up your VIP lanyard. The bus will leave at 7 PM SHARP for Jackpot Junction.
*The bus will also stop at our Big Country Studio located at 907 West Lincoln Avenue, Olivia to pick up finalists that live South of Willmar. Parking is available at the studio and along the street. Please plan to arrive to the studio by 7:15. The bus will arrive at approximately 7:30. We will check in finalists and leave as soon as the bus is loaded.
After the party, the bus will be available for loading at 12:30 AM and will leave at 1 AM SHARP. We will stop in Olivia to drop off finalists on the way back to Willmar.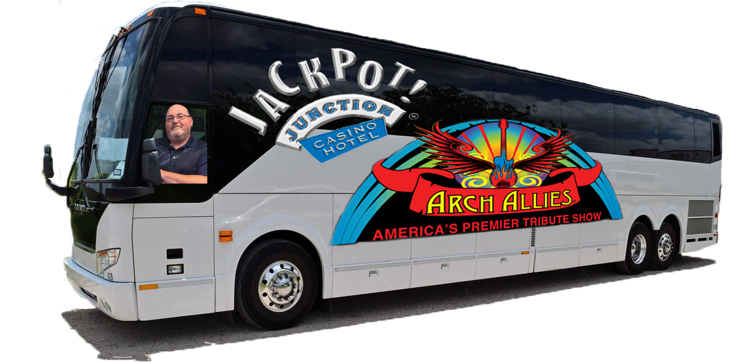 **NO SUBSTITUTIONS ALLOWED. VIP AND GUEST MUST BE 21+ AND HAVE A VALID ID. GENERAL CONTEST RULES APPLY.