Another promoter contacts us and asks if we'd like to attend a press conference with Garth Brooks and Trisha Yearwood on the opening day of their 11-concert run at Target Center. "Well yes!" So our sister station 100.1 Big Country's Bob Stevens and I planned our road trip to the press conference.
Then, the promoter writes back: "Do you want tickets to the opening show? Great seats!" "Um, yes!" I replied! 
PRESS CONFERENCE: Garth and Trisha arrived about 20 minutes later than the planned start and the first thing out of Garth's mouth was profuse apologies for their tardiness. "We left Nashville and everything was on time. Then we got here and we're late." He was nearly tearful when he added, "We are so sorry about that. That's just not how we are." Sincere, stand-up folks, the Brooks/Yearwoods (at one point, he did call himself "Mr. Yearwood").
There were many questions from the press gathered:
"How will this show be different than the last time you were here (16 years ago)." "It's going to be BETTER!" Garth said with a grin. 
"Why kick the tour off in Minneapolis?" Garth: "It's one of the top five places to play. I don't know what it is, but the Minnesota fans are great! Also, I love this building (Target Center)." He tearfully spoke of how his late mother came to the first 1998 show at Target Center after undergoing cancer surgery. "They treated Mom and Dad so great. I'll always have a soft place for this building."

Trisha Yearwood shared her memories of the first time she visited Minneapolis. "My first thought was how beautiful (the city) was and how clean it was. This is a big city, lots of tall buildings, lots of concrete, and it is spotless. The people treated us incredibly well. I'm also a huge Prince fan, so I went to First Avenue."

Our own Bob Stevens asked, "How does a guy of 'our age' (Garth is 52, Bob is...well, not quite that old) prepare physically and vocally for such a demanding run of concerts?" Garth: "Physically, I'm about 50 pounds heavier than the last tour because (he points to Trisha, who hosts "Trisha's Southern Kitchen" on the Food Network). Trisha

 responded: "Somebody has to test the recipes!" Garth continued, "

Vocally, it's not going to happen. I'll just admit that. But you know what I'm going to do?"(He started singing a song and then pointed the mic at the gathered media). "And it just goes. And when they're done, I'll come in at the end and finish it! Just being honest." 
After the press conference 15-20 media type folks got a minute or two one-on-one time with Garth. Our Bob Stevens asked:
We were rather rushed, but I wanted to know if he would get a chance to try some Minnesota hot dish: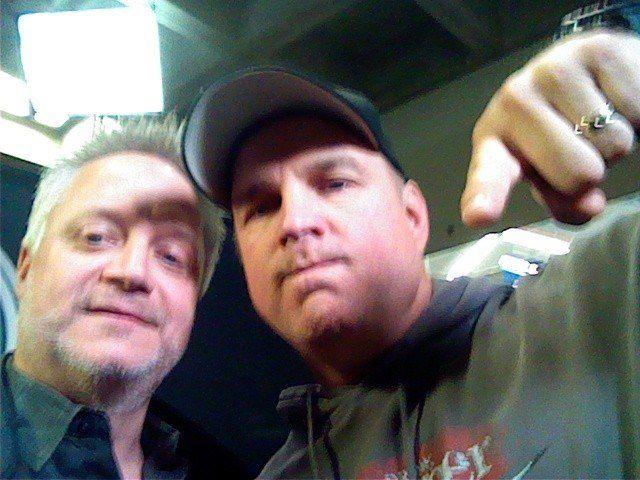 After a little dinner at Gluek's across the street, where MANY Garth fans were dining, the concert time arrived. Those tickets from the promoter: on the floor, Section 1, row 12! The lighting rigging was right over our head! Show goers were on their feet the entire time, singing along and smiling.
I told Bob I was already worried for Garth's voice at his hooting, hollering, and praising the crowd. Almost as though he heard me, he exclaimed on stage, "Whoah, slow down Garth, they say. Save your voice! Oh nooooo! We're JUST GETTING STARTED!" (Roar of the crowd).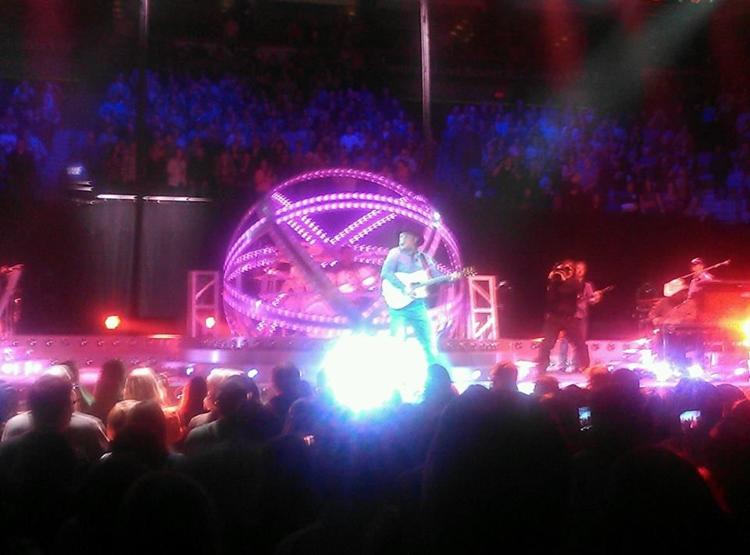 Trisha Yearwood did her set of songs in the middle of the show, giving Garth a chance to play guitar in the background and rest his voice for his last set.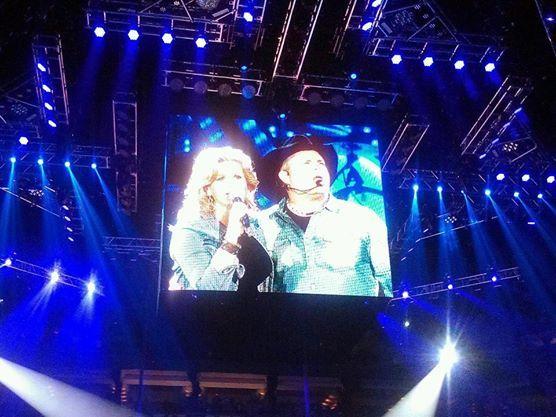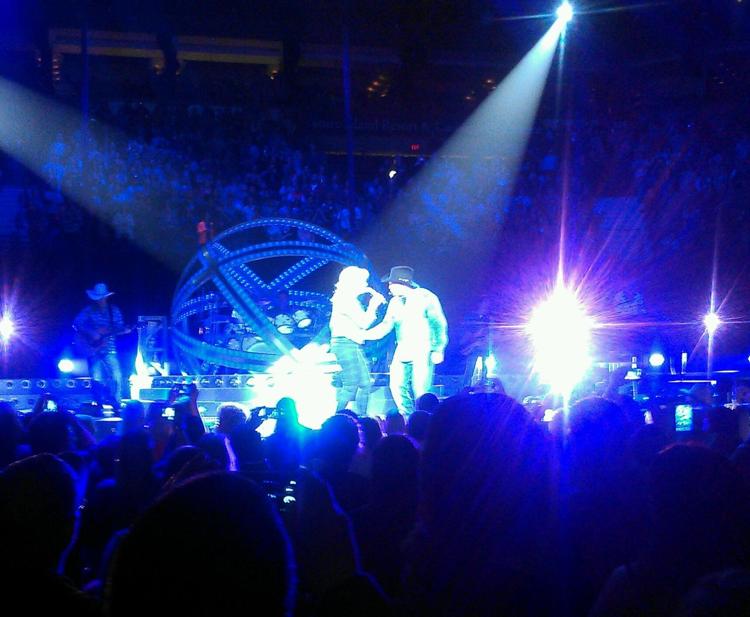 All eleven shows are said to be sold out (except 11/9). But Target Center put some tickets for Thursday night's show on sale that morning. In fact, a gal sat down next to Bob and me and said, "That was weird. I was in town on business, heard Garth Brooks was playing tonight and went to the box office and asked if, by any stretch of a chance, there might be a ticket available." There she was with us...on the floor...row 12. And we all sang and danced the night away with Garth.
As for Garth, he flew to New York after the show, did a segment on Good Morning America Friday morning...
...and then got on a plane back to Minneapolis for shows #2 and #3 Friday night. He's just getting started!